Do you know anything about "magic tea"?
Yes, the same one… you're probably drinking from right now.
We, its fans, still often refer to it with love and appreciation by its former name Thermojetix Tea.
And it changes: "Herb-based tea", "Dissolvable herbal drink"… But it's still our Thermojetix tea.
What is so much in it and why is it called "magical"?
Unique blend of orange pico ("Orange pico" is a term primarily for quality and "classy" tea):
Traditional black tea – prevents clogging of blood vessels and stimulates blood flow in the body. It reduces harmful cholesterol in the body. Antioxidants in black tea inhibit the development of cancer cells and protect against harmful free radicals.
Green Tea – Relieves stress and invigorates the brain. It helps to burn fat in the body. Excellent source of antioxidants (Catechins). They support the immune system, blood circulation and weight regulation.
It acts as a "fat burner" thanks to the combination of catechins and caffeine. This leads to an increase in the hormone norepinephrine, which increases energy, confidence and the desire to exercise.
Extracts from the flower of malva – an herb containing tannins, anticyan glycosides, tannins, vitamin C, provitamin A, minerals, etc. It has an anti-inflammatory, softening, expectorant, laxative, antispasmodic and sedative effect. It is used in inflammatory diseases of the respiratory tract, digestive and excretory system.
Hibiscus – cleanses the respiratory tract of bacteria that cause a number of seasonal diseases, rich in powerful antioxidants.
Cardamom seeds – support digestion, detoxify, with antiviral, antioxidant, anti-inflammatory, antibacterial effects, relieve stress, reduce acidity in the stomach.
Key Benefits
Low-calorie – approximately 6 kcal in 1 portion.
One glass of soluble herbal drink contains 85 mg of caffeine to help you increase alertness and improve your concentration.
Green tea is extracted in an aqueous medium to give you the full range of ingredients found in it.
Available in original flavor, lemon and peach. From the previous letter, you already know that this was not done with flavorings – it is a naturally obtained aroma.
Enjoy this refreshing drink – hot or cold. I personally highly recommend it to be hot!
How can it help you?
If you lead a busy and active lifestyle and often feel that you lose alertness and concentration, for example.
As a substitute for coffee. With only 6 kcal per serving, the herbal tea is a great refreshing solution. It can be taken warm or cold and will help you reach the required water intake.
In combination with Aloe Mango from Herbalife Nutrition it is unique, and its properties are enhanced even more.
For hydration during training – great!
Aloe as a supplement and "sweetener" is extremely helpful in hydrating and cleansing the body.
Usage
Mix half a teaspoon with 250 ml of warm water. If you have taken Aloe Mango from your trainer, add 3 caps of it for luxury and enjoy this magnificent refreshing drink in the morning on an empty stomach. Awesome!
After breakfast with a Formula 1 shake, make a cocktail of 1.5 liters of water, 3-4 caps of aloe and 2 servings of tea (one full teaspoon). Drink this cocktail during the day to improve your body's hydration and facilitate the intake of more fluids.
It can be included in both weight loss programs and programs for athletes (especially useful for hydration during training), or simply as an addition to a healthy menu.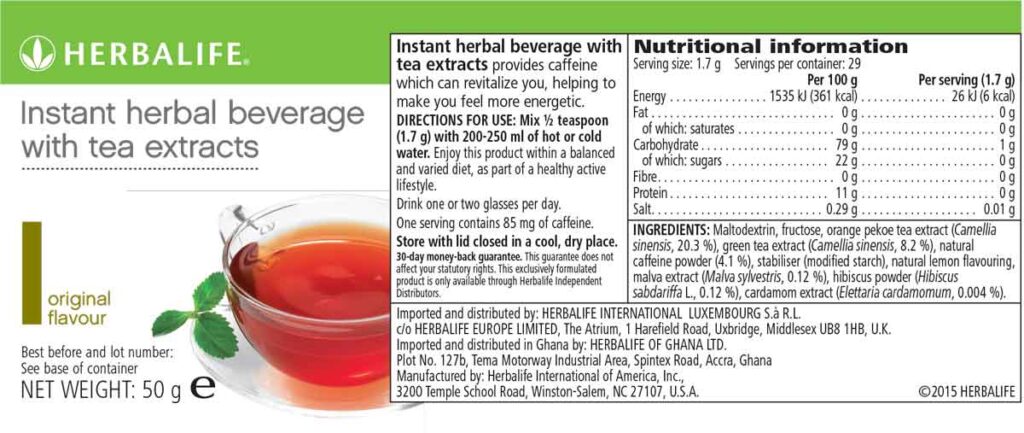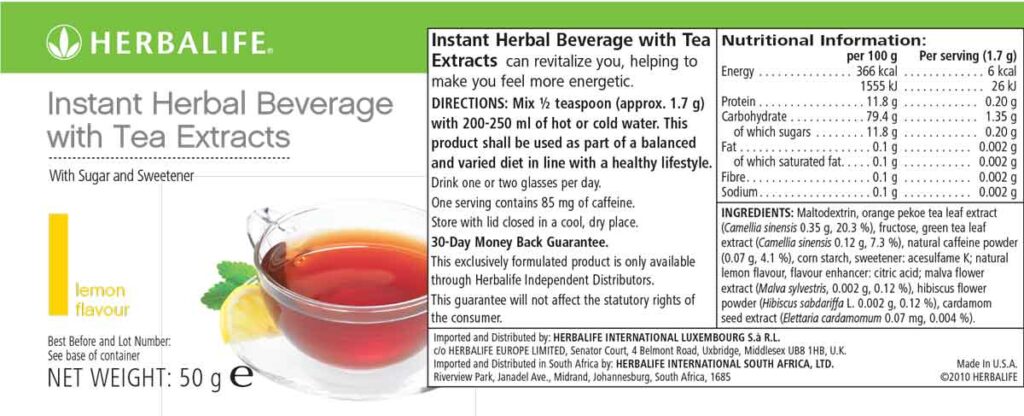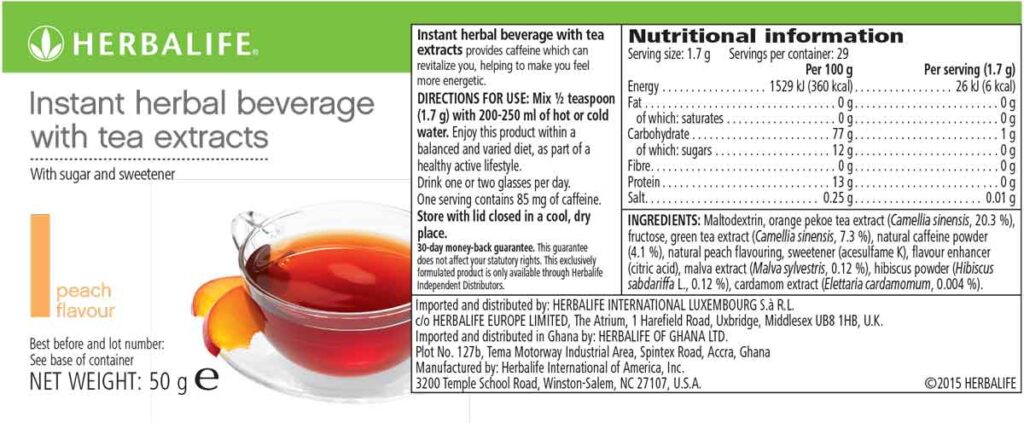 The tea portion is the smallest measuring spoon for 250 ml of hot or cold water.
Personally, we recommend that the same portion be dissolved in a larger quantity – half or one liter, sweetened with Aloe Concentrate and drunk during the day (it is considered the norm for tested water).
The usual portion is 2 portions per day, it does not hurt to drink more, but it is still good for people with high blood pressure not to overdo it and to follow the recommendations of their personal physician.